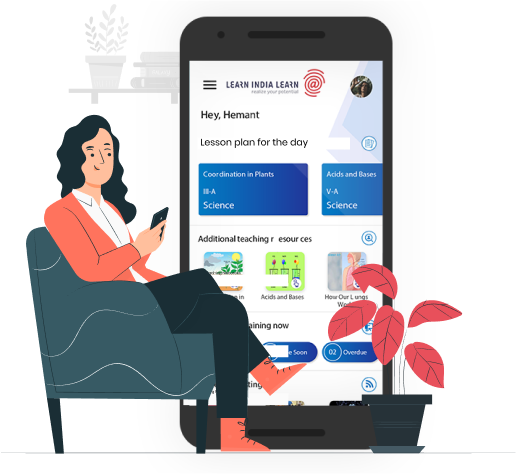 Empowerment
No teacher will be left behind
Teacher's very own Productivity and Professional Development platform that caters to each and every dimension of Teaching as a Career i.e from Teachers eligibility to Professional Training over desired competency framework.
Automates each of the routine operation. Engage them to reflect over lesson plans for Continuous improvements. Support them through a seamless Class observation workflows and Encourage them to take up bite size professional development courses, anytime, anywhere. Motivate them to take up roles in non academic leadership activities besides making them proficient in evidence based Teaching methodologies.
Professional Development

Trainings On the Go
Classroom Observations
Teacher's Profile & Portfolio

Academic Support

Lesson Plans & Schedules
Reference Teaching Resources
Class-Home Assignment Automation

ETAT - Teacher's Assessment

Periodic Eligibility Tests
Teaching Competency Framework
Assignment Tracking & Learner Analytics

Continuous / Daily Monitoring
Evidence Based Teaching

Teacher's Community

Reward & Recognition

Teacher's Allround Contribution
Teaching Index – Leaderboard
AI
Making class Really Smart
Tablet or Interactive screen based application to enable teacher with all the information at finger tip i.e. which lesson plan, which resources, which questions or examples, which activities, which Quizzes, which projects to be used for each Class session.
Power of app comes from it's AI provisioned Class analytics to enable teacher with Strengths, Growth areas, efforts, coverage, Accuracy, interested topics and subjects of each student.
Smart Class to Data Driven AI Class

Classroom Response System

Engaging 3D & simulations

Un-wired Teacher

Cover Lessons for proxy period

Student Behavior

Recording Evidence
Badge Assignment

Exams & Assessment

Question Bank
Exam Creation & Digital evaluation

Real Time Analytics & Reports

Class Analytics
Proficiency based Class grouping
Student analytics, PTM Report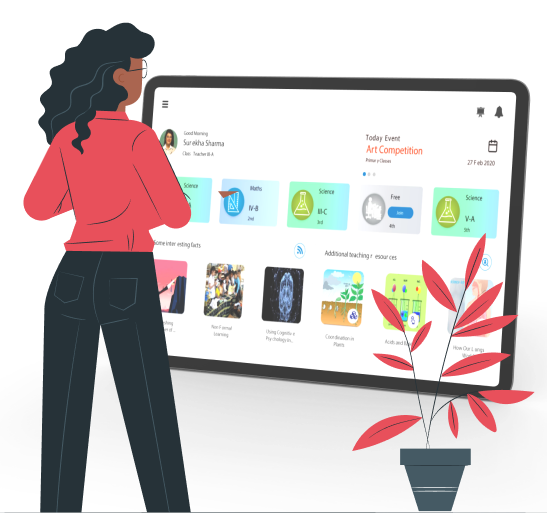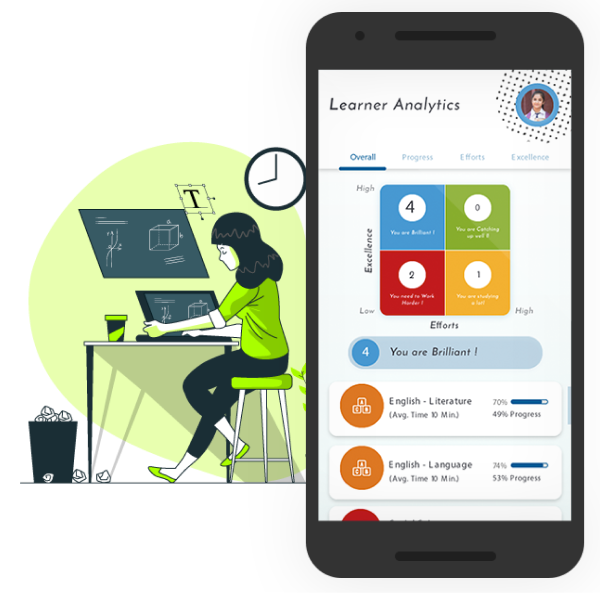 @ Home
Blurring the boundaries between School and Home
Most powerful blended learning experience for student. Restricts complete disconnection of student from Schools/classrooms.
Flipped classroom workflows empower each learner with additional sense of ownership of his/her own learning.
Highly engaging Subject specific Content

Learn, Revise, Practice, Apply & Experience

Extended Learning

Interactive Digital Books, Daily Recaps
Conceptual & Real life Connect Videos

Assignments

Pre-Read, Assessment Quiz, Adaptive practice
Moderated Learning Network

Peers and Mentors
Sharing of enhanced learning (video, articles)
Mastery Challenges

Interests/Hobbies - Video of the Day

Co-Scholastic / Real Life Skills

3 Level Time Spaced Revisions
Parents as
Child's Learning Analytics

Day to day Learning support

Notifications and Circulars

Assessment and Assignment info
Report cards and Answer sheets

PTM Schedules, Goals and Tracking

Direct Teacher Communications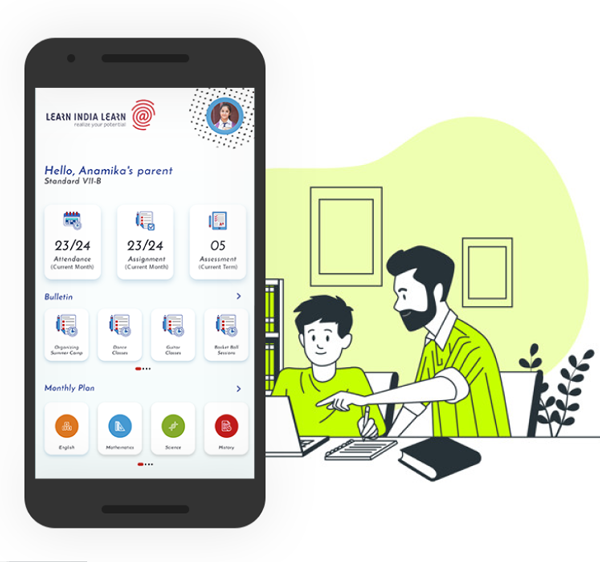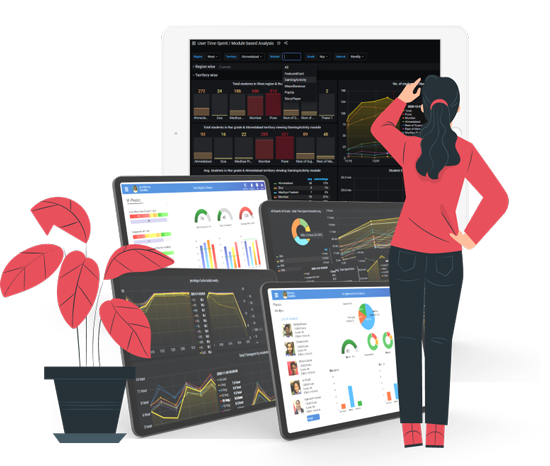 Insights
Deep Learning Analytics & Monitoring
SCADA like Dashboards

Measures & Predict Learning, Teaching

Evaluations and Monitoring

Near Real time User Engagement patterns
Teaching quality Indicators

Content Usage Analytics

Branch, Grade, section wise Analytics
As A service
Any teacher without prior technical knowledge can create :
Digital Books

Video Courses

Flashcards

Activities

Concept or Mind Maps
Picture Stories with Audio

Interactive Infographics

Variety of Assessments

Picture Galleries

Interactive Video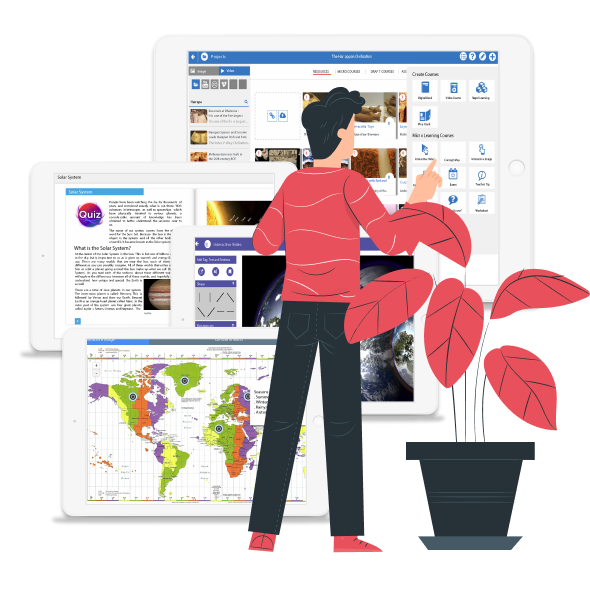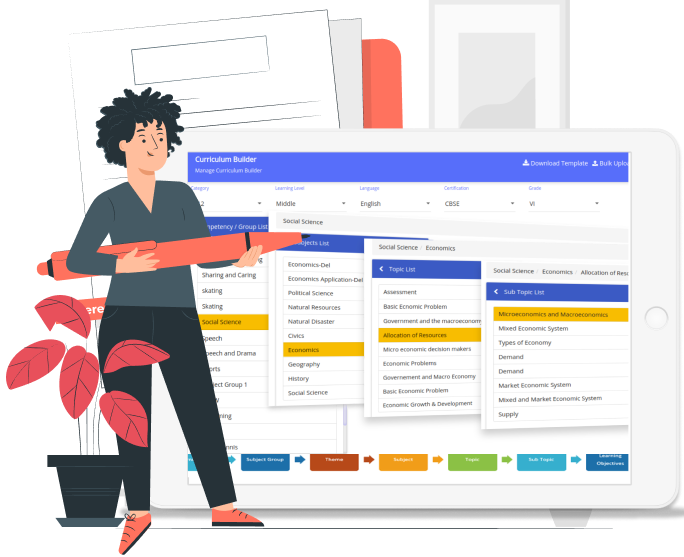 as a Service
Manage Syllabus and Courseware
Syllabus management with reusability across Boards and Certifications

Learning Objectives aligned to Blooms Taxonomy

Common currency across Courseware, Assessment and Interactions
as a Service
Planning

Academic Session Planning
All Types Exams and Configurations
Summative Assessments

Preparation

Patterns Creation for various exam types
Exam Paper Creation from Question Bank
Summative Exams of any type
Periodic Tests of objective types
Diagnostics Quizzes as AOL

Execution

Full Online & Offline Exams
Secured and Proctored Exams
Gamified, Personalized and Adaptive Assessments
Post Execution

Multi Dimensional Analytics
Automatic Report cards with Marks, Grades or Grade points

Pedagogy

Assessment Of Learning
Assessment For Learning